DISCLAIMER: Readers, the photographs in the blogs are mostly for representation purpose and the content shouldn't be associated with people in the photographs. We at Fashionscandal regret the agony caused to the two ladies whose images were posted here earlier inadvertently only for 'representation purpose'. We do state that the two lovely ladies were not at the IPL parties and have nothing to do with the content of this blog.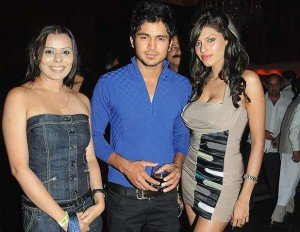 The post IPL game parties known as IPL Nights are just an excuse to provide the players an opportunity to indulge in some adulterated fun. Yes they have fashion shows too but as I wrote earlier, those shows are an insult to fashion and fashion designers. In fact most designers who agreed to do the shows say that the did it for Mehr Rampal but are repenting now. And they aren't being paid a penny.
On Monday night post the match between Delhi Daredevils and Kolkata Knightriders the party rocked at ITC Maurya and there was this girl – a wannabe sorts – Aishwarya Gulati, who wanted to get laid by a cricketer, in fact any cricketer. She was too sloshed and fell on Rohan Gavaskar's lap. But the Junior Gavaskar didn't really want to lay a drunk bitch. The frustrated and drunk Aishwarya Gulati did not any cricketer to oblige and eventually left with her girlfriends. She should try her luck with Mumbai Indians cos Bhajji would definitely oblige.