Money can't buy you style and Delhi butterfly – Tanisha Mohan is the perfect example of it. Robbie Mohan, her docile hubby has pots of money, which Tashu dear splurges like there's no tomorrow but her dressing sense can be best described as 'Tacky'. She is what we call a 'Brand Whore' – top to bottom laden with brands.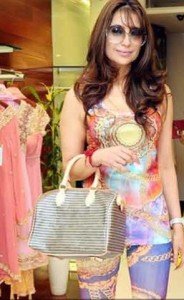 Tanisha has also flirted with ramp walking. Below you see her walking the ramp for Ranna Gill's Spring-Summer 2010 show at WIFW. Good lord! What made Ranna do such a huge compromise for her show? I poked my nose around and discovered that Tanisha bought the entire collection to be on the ramp as a show-stopper. Ufff…things these wannabes do for their 15 seconds of fame.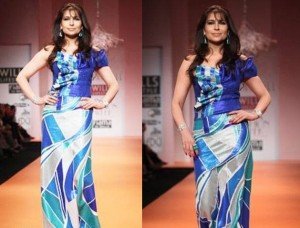 I am posting more pictures of Tanisha below to give you a glimpse of her tacky dress-sense (and don't miss those podgy knees). Mind you, they are all expensive stuff but as I said earlier – Money can't Buy You Style! Any stylists willing to help Tashu out? If yes, do express your desire and I'll recommend you. Don't worry, moolah is never a problem with Tanisha!