MET 'American Women' Gala was a treat to fashionistas. Designer Jason Wu with Camilla Belle in his gorgeous design has taken my first place spot. I love the cut and shirring on the bust and waistline…it fits her like a glove! Bravo to Wu.
Our NIFT Delhi alumni, Prabal Gurung dressed the American First Lady, Michelle Obama in Red too at the White House Correspondents' Association Dinner. And yeah, she looked bootylicious. You couldn't have missed the picture of Barak and Jay Leno staring at the First Lady's derriere."I was really hoping [she'd wear it to the dinner]," Gurung confessed.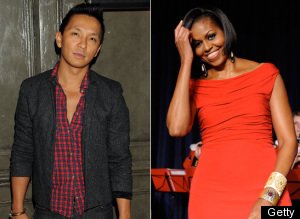 Coming back to the MET Gala, I loved Wintour in Chanel Haute Couture. The long military blazer was awesome. Her Dark Lips made a statement too. Bee donned a perfectly fitted Balenciaga gown in a sweet pink. Mother-daughter duo really rocked at the MET Gala.
Everyone kicked up (and off) their heels at the unofficial after-party for The Metropolitan Museum of Art's Spring 2010 Costume Institute Gala night at the Boom Boom Room. Claire Danes changed into jeans, Rachel Zoe and Christian Louboutin got giggly and there were a lot of hugs going around. Love the way they party
!