You would definitely agree with me that colas got a surge in demand the day some smart mixologist discovered that it goes great with Rum. Similarly the energy drink Redbull must be thanking Vodka for their sale impetus. You got to any club or pub, you will find tipplers screaming at the bartender, "2 Vodka-Redbulls please". In fact Redbull has become a generic term for Energy Drinks, just like Walkman was for portable music systems.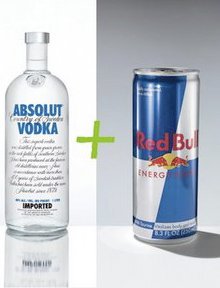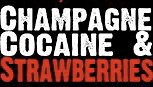 Coke, not the cola but the crystalline white stuff is fueling champagne sales and nobody is happier than the owners of the brands Moet & Chandon and Dom Perignon. If you aren't aware, let me broaden your horizons. Coke-heads love to drink expensive bubblies after snorting a few lines. And coke-heads are usually loaded (or how else could they savour an addiction that cost 4k for a g) and wouldn't drink anything less than a Moet. I have been told that the bubbly after few lines, heighten the experience. So next time you are partying out and you see a lot of bubblies being popped, be assured coke-heads are in the house.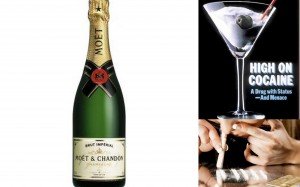 Seriously, Moet and Dom should thank Coke because I think the maximum champagne in this city is guzzled at nightclubs by the cokeheads. The french Luxury Conglomerate should spend some megabucks in form of charity in poverty stricken Colombia, the land of Coke. Don't you think so???