The amount of innovation that goes into lingerie and underwear is probably equivalent to scientific developments that NASA undertakes. We have heard of 'Wonder Bra' and 'Wonder Panty'. The latter pushes up the bum. But have you heard of Camelflage Panties? Well it is the latest innovation in underwear.
The word Camelflage comes from fusing Camel Toe and Camouflage. The Camelflage panties basically hide the 'Camel-Toe' effect. Now please don't ask me what 'Camel-Toe' is. These panty, they are specifically designed to smooth out your feminine parts under tight clothing. Yoga and exercise pants, leggings, tight shorts, skinny jeans or even some work trousers can have a shorter inseam causing panties riding up and leading to the 'camel-toe' effect. Here are 'Before' & 'After' pictures that explains it all.
A buddy of mine hates the concept of Camelflage Panties because he says, "Camel Toe is the new cleavage!".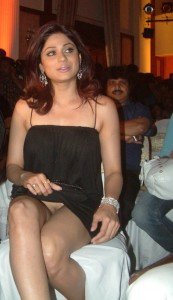 Then there are others who care two hoots about Camelflage Panties because they prefer to go 'commando', a-la Shamita Shetty. Remember that infamous picture where Shamita bared it all…'Look Ma No Panties'! A friend of mine who dated Shamita for a short while once told me that Shamita prefers wearing no panties…
Anyway if you wanna buy a Cameflage Panty, you can do it online for just $19.99.