Folks, my readers have given me some very exciting news and I would love to share it all with you guys.
Anonymously Yours, thank you for this info: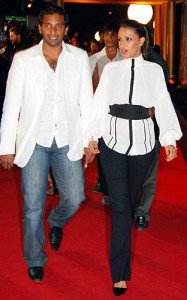 Dont know much about Ayesha getting hitched but what about squash champion Ritwik [better known as Neha Dhupia's ex flame]? He has reportedly been seen with Bollywood "item girl" Jennifer Mayani [she of the fake 40D boobs and botoxed 36 bubble butt] who displays her anatomy to the media to the extent that the straps holding her boobs er…….. bustier suddenly give away when there is a rich man/ paparazzi/ cricketer/ nightclub owner or manager around to lure. So is she gettign hitched to Ritwik? She was spotted with him at a television actress's birthday bash in Madh Island last week!!!!!!!!!!!!!!