Folks, your omnipresent SOCIALITE, Tanisha Mohan committed not one but two fashion blunders recently. You all know Tanisha hosted Sujata Asomull's birthday bash so that she keeps appearing in the glossy. In the bash our lady donned a Herve Leger dress.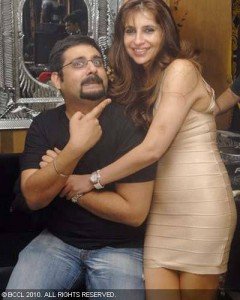 Now she wore the same Herve Leger bandage dress to Amu Saidi's (yet another lady who loves to be called a 'Socialite') bash and to her distress she discovered that Cheena Vig was wearing the same Herve leger at the same party. Firstly for a gold-digger like Tanisha, repeating a dress within a fortnight is definitely a fashion blunder and secondly, to be spotted at the party wearing the exact same dress as someone else is suicidal.

To top that, ladies were making snide remarks – "Cheena Vig's is undoubtedly original Herve Leger, doub if Tanisha Mohan's is. Cheena had a hearty laugh but Tashu was blissfully ignorant about the bitching. Hey Tanisha, has Robbie cut down your expense account or what?