Abhishek and Aishwarya Rai Bachchan are a jetsetting lot. On 26th Night they were at the GQ Men's Awards in Mumbai, sharing the table with the Living Legend, John Travolata and the following night they dash off to Milan to be at Giorgio Armani's S/S 2011 show. Wow, that's living life in style.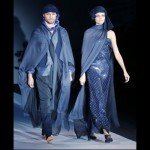 I guess the Armani invite was courtesy Aishwarya's L'Oreal Connections. Both wore Armani – a politically correct thing to do. But on the hindsight, Abhishek could have rocked if he donned his debut flick – Umraao Jaan look because Armani 's model had a Turban moment on the ramp.
I ain't sure if the duo was lucky to chit-chat with George Clooney. Way to go Abhi-Ash!