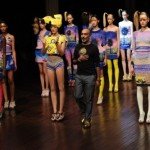 Paris Fashion Week Spring-Summer 2011 opened with outrageous designs. Boldness was in the air at ready-to-wear shows on Thursday, as designers here delivered over-the-top looks with Manish Arora taking the lead with his 'Beach Baroque' look.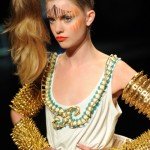 The collection was Lady Gaga(ish) with sculpted cocktail dresses dripped in sequins, rhinestones and huge gold appliqués. In fact Gold was everywhere, in scales and twists that defined ankles, bulked out shoulders, circled necks or the small of the back, creating reptilian body armour, like shoulder-to-wrist armbands of spiked gold as worn by women of Rajasthan. 
I particularly liked the automobile motif – with model cars worn as headgear, in gold or canary yellow, or in one case chopped up and patch worked into a yellow top.