I hate it when I see hubbies holding on to their wifey's handbag. I have seen it many a times at soirees but was never quiet shocked as I was, after seeing this picture. Travails of a Trophy Wife, I say: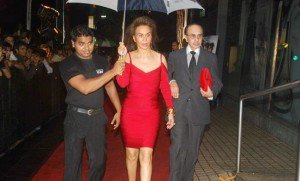 Can you believe it – Adi Godrej holding on to Parmeshwar's red clutch as MADAM walks down the red-carpet for Special Screening of Rajnikanth's blockbuster – Robot at PVR, Juhu? Well, pictures don't lie and you see it all here. I am really feeling bad for Adi. Poor guy doesn't even have the privilege of being under the umbrella, which the escort has totally dedicated to Pam Ma'am.
Expected the graceful Parmeshwar to be the 'propah' lady but am disappointed after seeing this. How can she dump her designer clutch on Adi and what is the need to grab the umbrella when the escort is holding it fine? Probably she wanted it all for herself. Problems of a Trophy Wife guys!!!