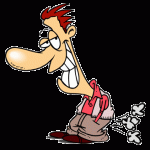 Well if you suffer from the 'gassy' problem and can't avoid releasing 'stinky bombs', here's your solution.
So long as you're wearing '4SKINS' underwear, there's no such thing as a "silent but deadly" odorous discharge. Made of cotton and spandex, these tighty-whities have been enhanced with Nano-Tex technology that acts as a smell neutralizer within the fabric.
While allowing your prized parts to breathe, '4SKINS' underwear prevents the escape of foul smelling air. The nanotechnology attracts odors and prevents their release into the room. Designed by Australian-based Gilbert Huynh, '4SKINS' underwear will spread quickly, but flatulence will not.
So folks carry on 'passing wind!