Though Priya Sachdev Chatwal maintains her married status with Vikram Chatwal, hardlt anybody believes her. She has been linked with Sunjay Kapur, which fired the buzz about Sunjay – Karishma divorce and also with certain Mr. 'G'. Surprising that Priya Sachdev always makes to the list of 'Eligible dames' even when she claims to be 'happily married'.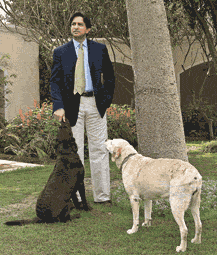 A little birdie just told me that something's cooking between Priya Sachdev and Gautam Thapar. Wow. If that's true then Priya really got a good catch. Gautam Thapar is the Chairman & CEO of the $4 Billion Avantha Group that has Crompton Greaves and BILT within the empire. And I have heard good things about this DOSCO – Gautam Thapar that unlike his other bro, Sameer Thapar, Gauti is a hard worker and a genious. If Priya Sachdev is having an affair with Gautam Thapar then she'll surely role in money, much more than what Chatwals seem to have.
Will get back to you if Priya and Gautam are actually seeing each other.