It's been years since we saw the husband-wife duo of Manju & Bobby Grover (M & BG) showcase their collection at any of the fashion weeks. If I remember right, I saw them last showing a collection almost two and half years back.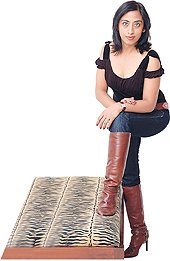 Well, post separation Manju Grover ( Manju and Bobby have separated now.) has taken to Pranic Healing and it seems she's done with designing. A friend told me that Manju is really good with Pranic Healing.

The separated hubby, Bobby Grover is still active with the 'Politics of Fashion.' Being a part of the Board at FDCI, Bobby Grover is the mouth-piece of disgruntled designers. At the last WIFW, a new designer – Sonia Jetley ran straight to Bobby when her 'Carry-Bag' (An installation was created with carry-bags of different designers.) fell-off, crying 'sabotage' and Bobby did fight her battle. But it was too trivial an issue for any scribe to give the incident any importance.
By the way, is Booby Grover eligible to be on the FDCI Board without being a designers? It's definitely an issue to ponder over!