This is how the richie-rich party!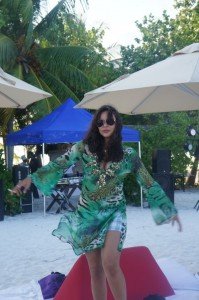 Shylla and Bobo Choudrie celebrated their anniversary in Maldives sometime in the third week of February 2011. They flew down gang of their friends for a weekend of extravagant debauchery in Maldives that as per sources costed around Rs. 2.5 crores. Dom Perignon literally flowed and be it breakfast, lunch or dinner, Dom was always flowing. Reportedly Bobo ordered 100 Bottles of Dom at every meal. If my math is right that means nothinf less than 500Bottles of Dom over the weekend.
Many Page3 regulars, mostly Delhi's rich kinds partied like there's no tomorrow. (Click on the image to see the larger format.)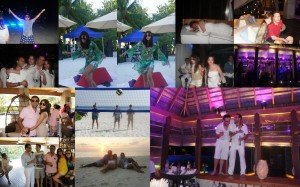 Who are Shylla and Bobo Choudrie? Well they are the bahu and the son of Sudhir Choudrie whose main business is allegedly of arms trading. Central Bureau of Investigation inquiry revealed that Choudhrie and his companies "received a number of suspected remittances to the tune of millions of dollars from IAI Israel during the year 1998 to 2001". It suggested that IAI had a close relationship with two of Choudhrie's companies – Magnum International Trading Co and Eureka Sales Corporation. Bobo is the Director of Alpha Group, which has interests in Real Estate and Health.