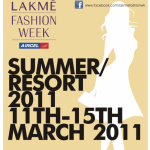 A Fashion Week is not complete without some scandal, gossip and tu-tu – main-main! The otherwise bland Lakme Fashion WeeK Summer/Resort 2011 had its share of gossip and scandal on the final day. 
And where there is Scandal. gossip and fashion 108.168.206.104/~fashions/ is there!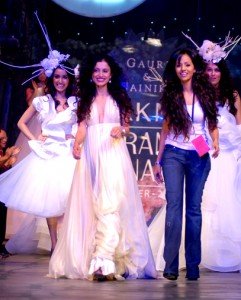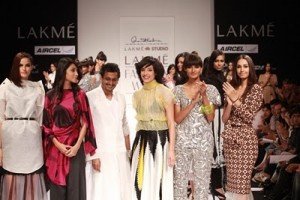 First we had Vikram Phadnis, Neeta Lulla and Nikasha Tawade grumbling that the organisers of Lakme Fashion Week are biased towards Delhi – Designers (Ufff…yet again Delhi versus Mumbai Fashion. Aren't we all sick of it?). Their other grouse was all the 'Sponsored Shows' are given to Delhi designers or the 'Favourites' of Lakme and IMG. Anil Chopra of Lakme was prompt in discounting the venom spilled by Phadnis, Lulla and Tawade by saying, "Three designers don't make a Fashion Week!"
The real chatpata incident happened as the Grand Finale show by Guari & Nainika (This is what the trio above was referring to.) was on. Hyderabad based designer Anand Kabra was Tweeting about Gauri and Nainika's show while watching it and so were a couple of Dolly Auntie Fashion Editors. The comments were definitely derogatory and was in the lines of …"So Valentino…soooo Marchesa…". In fact I have noticed that our desi fashion scribes are very keen to point out such an such outfit has been ripped off from so an so international designer. It basically is way to show-off that how clued in they are with international fashion. Like I remember wher G&N showcased their spring/summer 2010 collection, some said it's a rip-off of Marchesa's Spring 2007 Collection. Why? Simply because both the designs had a rose on the bust? Nobody has a patent on Rose and besides the silhouettes are so different. See the pictures below.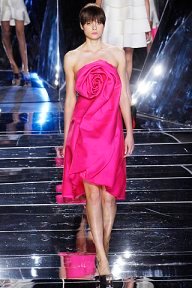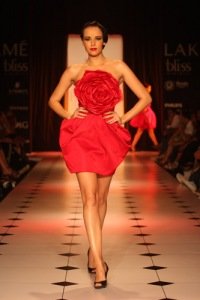 Gauri and Nainika's publicist, Arjun Sawhney didn't take these Tweeting bit lying down. He tweeted back and how:
*and now there are so very many of them
*i wonder if these "fashion" bloggers with 90 odd followers realise for inconsequential they really are in the larger scheme of things
@masabagupta you bitch people out on an open forum and say it was in good humor ! Really! talk about bad taste
*Why can't these losers concentrate on their own work instead of spreading poison around
*The idiot designer masab(a) didn't even watch the gauri nainika finale and bitched about them talk about being petty minded
8 hours ago via Twitter · Like · · @arjunsawhney on Twitter
Gaurav Karan likes this.
Arjun Sawhney
*Ana(n)d kabra and his hideous sensibility couldn't stomach the beauty on the finale ramp so what does he do attract attention By negative ugly comments
8 hours ago via Twitter · Like · · @arjunsawhney on Twitter
*Gaurav Karan likes this. (Gaurav is the doting brother of G&N)
Gaurav Karan Who is this Anand "Kabariwala" anyway? No one has even heard of him,,,,,,,
4 hours ago · Like
By the way, I would like to say that Anand Kabra is a good designer. His sensibilities are different from that of G&N's but that doesn't make him bad! Also I wish Anil Chopra takes the reigns of LFW in his hands and do something to put life back in to LFW. It's definitely going down and believe you me, it's got nothing to do with Delhi Vs Mumbai fashion war!