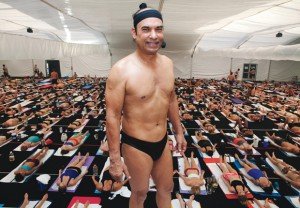 Bikram Choudhury's yoga resort is the best place to hookup with babes and Bikram is more a Sex Guru is what a scribe friend of mine in Frisco told me. In 1972, Bikram Choudhury launched Bikram's Yoga College of India in a tiny studio in the North Beach section of San Francisco, the heaters came with him. Bikram Yoga was born. Choudhury's method has its critics. Some medical professionals claim that it can increase the risk of cartilage tears and stress the heart. Today, he's Hollywood's guru of choice, with followers like Madonna, Ashton Kutcher and Demi Moore, Lady Gaga, George Clooney, and Kobe Bryant. 
But lately Bikram is getting more famous as a 'Sex Guru' and American media is exposing the libidinal energy the entire resort throbs with. Sample Bikram's commentary at the teaching sessions: "You, Miss Teeny-Weeny Bikini! Spread your legs! You, Mr. Masturbation! Until I say 'Change,' you do not move a muscle!" In a white circus tent heated to 105 degrees, 600 not-quite-naked people contort their bodies into positions you never knew were possible. The men have perfect, rippling muscles. The women (and the majority of students here are female) are long and taut, with fatless stomachs curved just enough to be erotic and breasts that perk cheerfully upward. Female instructors laugh about the erections created by the pulmonary effects of some seated postures. "At times I can't even look at the men," says Mollie Glicksberg, a teacher who is getting recertified. "There's a swollen penis, jumping out at me. I don't know whether to laugh or run away screaming."
Then there are the stories about Bikram having sex with his students. A journalist friend of mine experienced Bikram's session and when he asked him about this, he doesn't deny it—he claims they blackmail him: "Only when they give me no choice! If they say to me, 'Boss, you must fuck me or I will kill myself,' then I do it! Think if I don't! The karma!" Paul a trainer from the Bay Area who has been certified in Bikram for seven years kind of defends Bikram and says. "What do you expect? There are hundreds of gorgeous, extremely fit women everywhere. There are almost no guys." Bikram Choudhury's yoga sessions have been become the ideal place to hookup or pick up girls. Charlie, a teacher from Los Angeles goes there to practice with Choudhury for just a few sessions (walk-ins are allowed at $20) but says, "Honestly,I come to meet girls. I just walk up and say hi in the laundry room. A lot of them do their wash after evening practice. Or you can get lucky at the pool in the afternoon. But by far the best place for pickups is the posture clinic", says Charlie.
These reports are increasingly causing worry among men whose wives or girlfriends have caught the yoga bug!