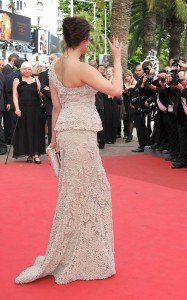 I don't understand why media is swooning over Aishwarya Rai Bachchan's red-carpet moment on the Opening Day at Cannes Film Festival 2011. Okay the one-shoulder Elie Saab gown was beautiful but didn't look great on her. I think Ash looked like an 'Auntie ji'! I guess she wore the gown that had a flaring out layer at the hip to kind of take away the attention from her derriere, which I think looked really big. Even the Cummer (Waist) is like a Kamra (Room). And what about the folds on the under-arm and sagging back??? She's really become like those heavy and busty South Indian actresses. Salma Hayek post her pregnancy looked hot and Uma Thurman, who is much older than our Ash looked chic. 
Saif Ali Khan was royally ignored. As customary, even his name wasn't announced as he walked down the red-carpet in a Tom Ford suit and not a single flash-bulb flashed. Really sad
dude. I mean even Minissha Lamba dressed in a Gauri &
Nainika gown had her paparazzi moment but Saif had none. I think Saif Ali should have done some preparation like hiring a high-flying publicist and stuff. Chivas Regal didn't do any of it. I am sure the  paparazzi took him to be a waiter or a random escort as he hurriedly walked down the red-carpet, unrecognised.