Marilyn Monroe sent men's hearts a-flutter when she stepped out of the cinema – and onto a Subway grate – in her beautiful white dress in The Seven Year Itch. And a movie memorabilia collector is giving you a chance to do the same provided you have $2 million laying around. The pleated halterneck dress is being sold in an auction of iconic film costumes and is expected to fetch up to $2 million. If you buy it and try it on yourself, please tell us what size Marilyn Monroe really was.
The famous frock is being shilled by Debbie Reynolds, who has collected Hollywood memorabilia for years and plans on selling off her entire collection. She also owns a dress worn by Maria in The Sound of Music, the Ascot dress and hat worn by Audrey Hepburn in My Fair Lady, and shoes from The Wizard of Oz.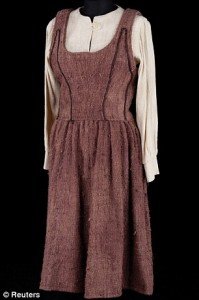 If you want to glimpse the subway dress as well as the rest of Reynolds' treasures before they're lost forever to rich memorabilia Collectors of the world, the collection will be on public display at the Paley Center for Media in Beverly Hills for the next month.