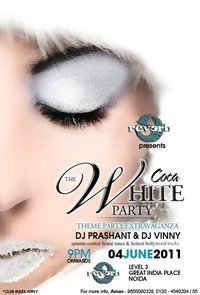 Cocaine and partying are definitely no strange bedfellows. But I was stumped by this Promo on Facebook by some Club Promoter that read – ;;: COCA:;;:THE WHITE SENSATION PARTY:;;:
Now that is definitely not subtle, rather it's like shouting shouting over loudspeakers. There isn't an iota of doubt that the promoters of the 'Theme Night' are selling Cocaine. Coca leaves produce white milky stuff that is the essential ingredient of Cocaine. The mention of 'WHITE' eliminates any doubt that they ain't talking about COCA COLA!
This is happening on Saturday at some unheard club called Reverb in NOIDA and being promoted by dumb blokes. I think Cops should take note of this. (Read the complete promo-message below):
Time

Saturday at 9:00pm – Sunday at 3:00am

---

Location

Club Reverb , level 3, The GIP Mall

---

Created By

Reverb India, Anurag Das, Kunwar Azhar Ayyub Khan

---

More Info

HEY ALL…

HEREZZZ CLUB REVERB BRINGING YOU ANOTHER BIG EVENT DIS WEEKEND…..

"COCA"….ITZZ A PARTY WHICH WILL DRIVE U CRAZZZZYYYYYY……….

THIS SATURDAY BE DRESSED 2 UR BEST…..BUT WEAR ONLY "WHITE" AND DANCE 2 D GREAT MUSIC PLAYED BY OUR VERY OWN DJ PRASHANT & DJ VINNY…..

SO COME ALONG ALL OF U 2 D MOST HAPPENNINNN PLACE OF NOIDA i.e. CLUB REVERB….
ENTRY FREE BY GUEST LIST TILL 11:00 P.M…….
AFTER 11:00 COUPLE ENTRY Rs 1000 & GIRLZZ STAG FREE….
TEXT UR NAMES TO AMAN @9650090328 TO BE ON THE GUEST LIST.