It was yet again an Indian born American who won the 2011 Scripps National Bee Championship in the US. The winner is a 14-year-old Sukanya Roy.  She is in the 8th grade in Abington Heights Middle School, Pennsylvania. Sukanya participated in the 2009 and 2010 Scripps National Spelling Bees, tying for 12th place in 2009 and 20th place in 2010. The girl is not a Nerd as she loves hiking, rock climbing and ice skating. Sukanya speaks Bengali, and every summer travels to India to visit family. She hopes to pursue a career in international relations. 
There were many Desis in the Spelling Bee Championship. Arvind Mahankali from NY tied for the 3rd place. Dhivya Senthil Murugan tied in the 6th Place with co-Desis, Sriram Hathwar and Mashad Arora and Nabeel Rahman originaly from Bengal tied with Prakash Mishra for the 10th Place in the 2011 Scripps National Spelling Bee contest.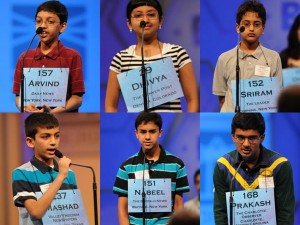 What makes Desis dominate the Spelling Bee Championship year after year? No they are not bookworms mugging up spellings as all the winners have active extra-curricular life. I guess that we Desis are simply smarter than the Americans!