There was a time when all the Scams and Scandals happened in the North or West of India. South was the 'Saintly' part of our huge country. But now with 2G Scam, South has taken the lead in scams. One 2G scam is huge enough to beat all the scams that ever took place. Jailed former Telecom Minister, A Raja, DMK Lord's daughter, Kanzimohi, Dayanidhi Maran, the Textile Minister currently under cloud, Karnataka CM, Yedurappa, the Reddy Brothers (Mine Owners) and C Sivasankaran, the Corporate Raider are the leading sons of Southern India who are forging ahead the Scam-Score.
But that's not all. The Scandals pouring out from various Southern cities of India are so salicious that it is putting us Northeners and Westerners to shame. An avid reader of Fashionscandal.com – Pinky – gave me some dope from South and gawd they are really scandalising. This is what Pinky sent:
"It seems it's always North Indians who are in the news about scandals and dirty politics. You know, the LV toting, Mercedes driving, spouse swapping ones and that too the well-known faces down South would put any Delhiite or a Mumbaikar to shame. According to what a little birdy told me about our lesser known counterparts down South, I couldn't resist from sharing it with Fashionscandal. It blows my mind that girls perform oral sex behind the Gymkhana and then don a Kanjeevaram saree and meet the guy selected by her grandma the very next moment.
Many talk about Chennai's infamous student cum socialite, Krithrika Srinath from the Kasturi Gopalan (The Hindu) Family. Taking after her "interior designer" mother (a-la Shalini Passi) Krithika is happy juggling several guys at a time. She's very nonchalant about sex and is always seen with a drink in one hand and a cigarette in the other. Krithika is very open minded and has 'dated' (read: Slept) with everyone from goths to industrialists and when I asked a guy how he knew about something as minute as a butterfly on the small of her back, he winked and said it's very hard to miss when you're in a certain position!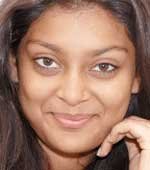 In Bengaluru there is this cracker of a girl – the daughter of the Kannada actress Jaimala Omaila. Folks who hobnob with the 20 something failed actress Soundarya say that she is a wild paaaartttty girl. Banglorians talk about her penchant for Powdering her Nose a wee bit too often. Soundarya believes that this would make her lose weight. She also has this dirty habit of skipping showers and when it comes to 'Jumping and Pumping @ Night', she believes in more the merrier."
Pinky writes in anguish, "So much for the South being the hub of intelligence. At least the North wears it on their sleeves and doesn't hide behind their Kanchivaram sarees!" And yes Pinky will come back with more goss from South soon!