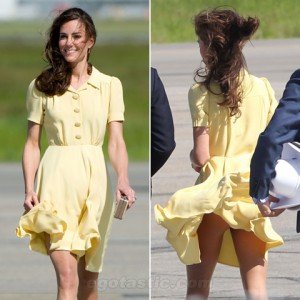 It was really fun watching the sexy Duchess, Kate Middleton and Prince William travel across US and Canada this past week, donning local costumery like kids at a multicultural parade at a politically correct elementary school, dressing as Cowboys and Kate looked truly amazing in Alexander McQueen on the red-carpet when she met the Hollywood Stars in Los Angeles.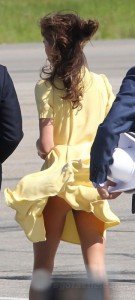 But  then I was totally flabbergasted when I came across this Canary yellow summer dress Kate Middleton upskirt picture where the winds played a blessed joke on the royals, for the benefit of gentleman oglers everywhere. Just a year ago, I can't even imagine anybody getting excited over the prospect of leering up any British royal's frock, but, oh, how times have changed. Just look at that little future queen's bum. Bloody good show indeed. Enjoy.
P.S. Since we're talking royal bums, at the same time as Duchess Catherine was flashing the bare bum in Canada, across the pond in the Old Country, little sister Pipa Middleton was showing a bit of the Middleton bottom muffins herself in a pair of skintight jeans.