I have been strongly writing about how Bollywood show-stoppers are suicidal for designers – be it jewellery or apparel designers. And yes who should be blamed? Well I blame the media for it!
The India International Jewellery Week (IIJW) concluded in Mumbai last week. But what did I get to read in newspapers & internet and see and hear on television? Nothing but, which filmstar walked the ramp, Lara Dutta's baby-bump, Sanjay and Manyata Dutt's debut on the ramp, Zarine Khan's weight problem and Kalki Koechlin's impromptu gig. I didn't get to read anything on the emerging trends in jewellery design, the styles that were most prevalent or even the designers' whose work were outstanding. In fact most of the media coverage totally ignored the 'jewellery' aspect and went on and on about the film star, her upcoming movies and some irrelevant tid-bits. In fact I don't even know, which star walked for which designer or what brand. The photographs just focussed on the star and blurred the brand on the backdrop or chopped off the designer standing beside. I feel disgusted by such reporting. All I can say that it was an awful waste of money by the jewellery designers and brands.
IIJW reporting would easily give the idea that it's something in the league of IIFA!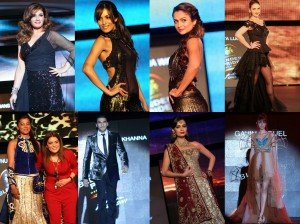 Same was with the Blender's Pride Fashion Tour that just wounded up in Mumbai. All the media reporting was limited to Bollywood stars strutting the ramp. In fact on a prominent TV Channel, I saw the cameraman deliberately cutting out the designer from the frame and the selfish stars didn't utter a word about the designers' collection.
Time to wisen up guys!