Padma Lakshmi appears to be in a serious competition with Simi Garewal on who can hold the most Botox in their face!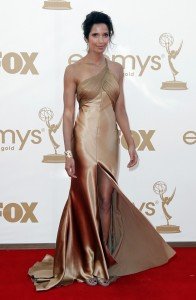 On her appearance at 2011 Emmys, my gaze was more fixed at Padma Lakshmi's Frozen Face than her Armani Privé 
Golden Gown or her Jimmy Choo sandals. She sure did look worse than Simi, who till now was the Queen of Botox. Padma beats Simi hollow. Look at the pictures and decide for yourself.