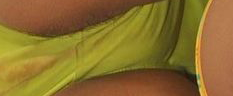 I have been to a lot of photo-shoots with top-notch models, filmstars and even sportstars with ace lensmen like Tarun Khiwal, Jatin Kampani, Anand Seth and Hemant Khandelwal and witnessed how professsional they all are. Be it the models, the stylists, the make-up artist,  photographers' assistants and the photographer, they all simply aim for perfection.
Recently
I chanced upon these photographs of two models – Natasha Sikka and Yasmin Khan (Am not aware how big or small these models are.) in a risque bikini shoot themed on erotic lesbian act. I am okay with the erotiscism and the lesbian act but I was disgusted by the pubes jutting out from the bikini brief, stretch marks, cellulite and worst of all, dirty feet. Come on, isn't it the done thing to for female models to go for a Brazilian Waxing before a bikini or a swimwear photo-shoot?
After seeing the photographs of Natasha and Yasmin in a lesbian act I was wondering what the hell was the make-up artist doing or for that fact, the stylist and the photographer. The make-up person could have easily concealed those ugly stretch marks with some concealer and shaved off the pubes that protruded out of the panty as if a baby porcupine was hiding in there, The stylist could have given the unshaved model something else to wear or at least the photographer should have photo-shopped the blemishes, the protruding pubes and the dirty feet. They anyway photoshop to make Priyanka Chopra's complexion light or make Preity Zinta look curvaceous even with her 'H' shaped body.
I am sure after seeing the photo-shoot nobody would buy those bikinis. The brand is dooomed!