Today is the penultimate day of the ongoing Wills Lifestyle India Fashion Week (WIFW) Spring/Summer 2012 and  in the past three days I saw some really fabulous collections. Yes it's strenuous to see 38 designers showcase their collections over 3-Days and at times I complain of fashion-fatigue but then one good show wipes out that fatigue and reinvigorates me for more.
Today I am posting 'My Fab Shows' for Day 1
I loved Nandita Basu's collection. The silhouettes looked simple but were deftly contoured with strategically cut panels, the hues were earthy, which were textured and detailed with applique work and stitch detailing. The collection was the perfect adaptation of Rajasthan's flavour in contemporary form.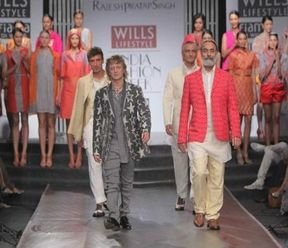 Rajesh Pratap Singh's spring/summer 2012 collection mesmerised me with its fabric; the high-count fine cotton that Pratap weaves in-house is absolutely fabulous and to which, he added Ikat prints in contemporary style.Tangerine orange, scarlet red and candy pink brightened up the red and when mixed with grey and silver, the look kinda bloomed. The layered shirt-dresses, hooded numbers, saris paired with waistcoats where simply beautiful. The dragonfly prints and butterfly motifs dominated the collection and his menswear line was equally fab. Gudda strutted down in a grey star-spangled shirt-jacket worn over long kurta-shirt and Navtej Johar looked regal in a red jacket teamed with off-white Kurta-shirt and slims pants.