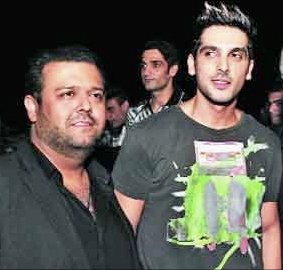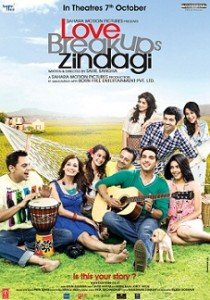 I was rather surprised that Manav Gangwani wasn't doing the Costumes & Styling for Love-Breakups-Zindagi, a Zayed Khan, Dia Mirza & Sahil Sangha Production since he is so close to the trio. When I asked him he said, "I have some other projects that I committed earlier – A Royal Wedding (Uhmmm…More on that later.) but I did design and style the costumes for all the characters for  a song. It's a song originally fimed on Neelam and Govinda – 'Main Se Mina Se' in its new avatar for Love Breakups Zindagi". In fact Zayed Khan and Dia Mirza were adamant Manav does the song because they wanted a total Bling look, which MG probably does the best.
I had a look at the song and must say Manav Gangwani was the perfect choice for it. He really transported us to the Disco era with Zayed in a shimmering sequined jacket over a Tee with the slogan 'Disco Junky' and Dia in a sheer net sari and a sexy blouse oozed loads of oomph. And yes how can I miss out on those shiny headbands on background dancers; so very Disco. I have heard Zayed's work has been applauded by stalwarts at the Private Viewing and LBZ may just be a Surprise Hit at the Box Office. You too can have a look at this catchy song here: http://youtu.be/ilxpsdDidqs
By the way, did you know that Dia Mirza and Sahil Sangha are seeing each other? If not then let me tell you that Dia is seeing Sahil ( A Delhi lad.) for almost two years now. Dia's got this thing for 'Producers', huh!
Now about that Royal Wedding that kept Gangwani busy. Well it's the wedding of the King of Bhutan, Jigme Khesar Namgayal Wangchuk with Jetsun Pema. I managed to decipher this when I read about The King of Bhutan's wedding and realised why Manav was travelling to Bhutan every other week. I knew about MG's friendship with the Bhutanese King but still he won't say anything about it. I guess he must be bound by the 'Non Disclosure' clause.