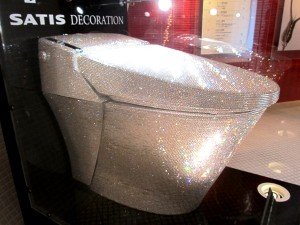 Swarovski Crystals are invading our lives. In India I see the crystals not only on Lehenga-cholis, saris but also on panties. Ouch…What would happen if those crystals get embedded in your bum? The very thought gives me the shudders.
But the Japanese have taken the Swarovski Crystals to a place where no one else could have thought of. Japanese interior-fixtures maker Lixil has come out with an awesomely blinged-out toilet – The Satis commode is decked out in 72,000 Swarovski crystals and is valued at $130,000, which is approximately Rupees Seventy Lakhs. "2011 was a really tough year for Japan, with the earthquake and tsunami disasters," says Lixil's Shintaro Kaai. "We wanted to do this to cheer everybody up just before Christmas."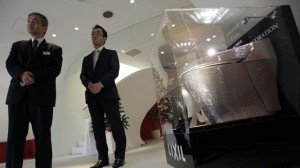 Japanese have a thing for Toilets and are renowned for high-tech functions such as automatic lid opening, adjustable sprays, and remote controls. Still a Crystal Studded crapper worth $130,000 is stretching it to the limits. I don't know about Japanese but I would be constipated on that Blingy Crapper.
But then I am sure Kanye West and many Arab Sheiks would love to park their butt on the $130,000 Crystal-Covered Toilet. Among Desis who do you think would go for it? Shahrukh Khan? Mukesh Ambani? Closer home I am sure the Passis would love to have it in their 300Crore House in Golf Links. Happy Crapping!