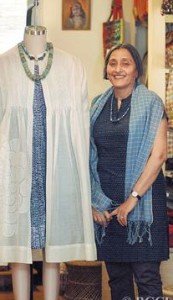 This is a rather unfortunate story and an unethical one. Veteran designer Neeru Kumar known for her penchant for handwoven textiles for her creations in now launching a diverse line of polyester, viscose and jersey dresses. Nothing wrong in starting a second line but what's wrong is the method adopted.
People who follow Indian fashion are aware that if there is any designer who has extensively used jersey and viscose fabric to create an affordable range of dresses, gowns and tunics, it is Ranna Gill. This fact is also known to designer Neeru Kumar and she had witnessed the good business Ranna Gill does at D-7, the store in Mumbai where once Neeru Kumar too had her store. But Neeru shut down the store because of bad sales. 
Now to start her second line of mare saleable fashion, designer Neeru Kumar has taken the easy route out. She has taken on the chief assistant designer of Ranna Gill and many other staff like the Master ji, pattern maker and others. And that's not all, by grabbing Ranna's main staff, she has also made inroads in to the vendors who supplied Ranna Gill the material, trimmings, etc. By hijacking the core design team, Neeru has virtually hijacked the business model of Ranna Gill.
As per reliable sources, Neeru Kumar is going to launch the new line under the former Chief Assistant Designer of Ranna Gill's name and plans to target the same market – domestic and international – where Ranna does good business. I don't appreciate such unethical practices!