I have a first hand experience of Saif Ali Khan's angry moments. This was when I was with HT Citty. My photographer colleague , Rajesh Kashyap and I spotted Saif Ali Khan and Kareena Kapoor together at a Delhi nightspot. This was the time when Saif and Kareena did not come out openly about their affair. My colleague took a picture of Saif-Kareena together and pronto Saif came, snatched the camera and deleted all the pictures. So all those – Sobha De and Alyque Padamsee  – who are tom-toming about Saif being a good and cultured boy  probably haven't seen the bad side of the Nawab.
Here is what one of my favourite Blog – Bollywood Basket posted on Saif Ali Kan and his Chamcha, Shakeel Ladak's brawl at Wasabi with NRI Iqbal Sharma. Also heard on Television Iqbal Sharma's father-in-law stating that Saif was frequently going out of the restaurant and returning. Were those the visits to the Powder Room??? Anyway I am reproducing that Post here: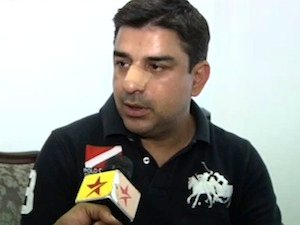 SAK surrendered to the Police with his son in tow. Way to go on the life lessons, Daddy!
Per TOI:
Bollywood actor Saif Ali Khan was brought by Mumbai police to the Colaba Police station for interrogation in a case relating to an assault on an NRI businessman on Wednesday evening. According to reports, he was questioned, charged with assault and then granted bail. 
Earlier, the actor got into a scuffle in a five star hotel restaurant last night and apparently punched a man in his face and broke his nose. [Is this what they teach in Nawab school?]
A case under section 325 of the IPC had been registered against Saif. The incident took place last night at Wasabi restaurant, Taj Hotel when he, along with Kareena, Malaika Arora Khan, Amrita Arora Ladak and a few friends, were having dinner.
Iqbal M Sharma, a temporary resident of Juhu, was sitting with his family at an adjoining table. According to reports, Iqbal complained about the clamour that Saif and his friends made. This ticked off Saif and a scuffle broke between the two. Saif, reportedly, told Iqbal to go to a library to find quiet. [Ooh nice almost insult, Saif Uncle!]
Some reports suggested that the fight actually broke between Amrita Arora Ladak's husband Shakeel Ladak and Iqbal. But it was only when Saif intervened that he got into a brawl with Iqbal.
Post the scuffle, Iqbal lodged a complaint that Saif and two of his associates assaulted him with fist blows, causing fracture to his nose. A case has been registered against the actor with the Colaba police station.
According to Times Now, Iqbal M Sharma is the deputy director of department of trade & investment, South Africa. He is a South African national of Indian origin. Iqbal told Times Now that Saif and his friends abused him and his father-in-law verbally and assaulted them physically.
Hawaldar Welkar of the Colaba Police station in Mumbai confirmed the news and told us, "Yes, a case was registered against Saif Ali Khan by Iqbal Sharma, last night for some fight that took place between them in Hotel Taj last night. Rest of the details are with my boss ACP Iqbal Sheikh."
When contacted ACP Iqbal Sheikh said, "We are conducting an inquiry into the matter and we will be questioning every one involved in this case. If required we will be arresting who ever is at fault."
Meanwhile the people at Wasabi refused to comment on the incident. Pankaj Singh, the floor manager at the Wasabi said, "I wasn't here last night so I don't know about anything that happened at the restaurant nor have I heard anything from anyone here." [So f*cking typical! God forbid, Bollywood stars stop eating there…]