You read it here at 108.168.206.104/~fashions/ first! The well-known designer Diane von Fürstenberg  has confirmed her attendance at the forthcoming HT Mint Luxury Conference 2012, scheduled for 23rd & 24th March at The Taj Landsend, Mumbai. Last year the Mint Luxury Conference had designer Emanuel Ungaro as one of their esteemed guests. But Diane von Fürstenberg is definitely a much bigger name today. She is best known for introducing the knitted jersey "wrap dress" in 1973, an example of which, due to its influence on women's fashion, is in the collection of the Costume Institute of the Metropolitan Museum of Art.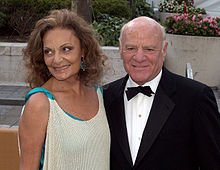 Diane von Fürstenberg, formerly Princess Diane of Fürstenberg is a Belgian-American fashion designer best known for her iconic wrap dress. She initially rose to prominence when she married into the German princely House of Fürstenberg, as the wife of Prince Egon of Fürstenberg. Following their divorce in 1972, she has continued to use his family name, although she is no longer entitled to use the title princess following her divorce and subsequent remarriage in 2001. In 2001, she married American media mogul Barry Diller, with whom she had been involved, off and on, since the 1970s.
In 2005, the Council of Fashion Designers of America (CFDA) awarded Diane of Fürstenberg a lifetime achievement award and the year 2009 named her as their President.