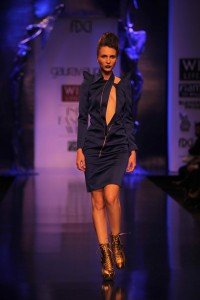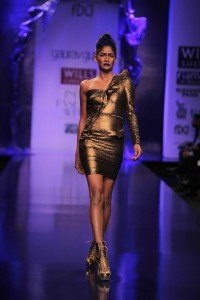 The second day of the Wills Lifestyle India Fashion Week (WIFW) Autumn-Winter 2012 was a mixed bag. We had the tyrant of Bigg Boss 5 – Pooja Mishra walking the ramp. Come on spare us (no pun intended) the drama Chandrani!
But yes the encouraging bit was some fabulous shows and my vote goes to Gaurav Gupta, Raakesh Agarwal and Arjun Saluja. Firstly all three of them made an effort to show a collection totally different from what they were getting slotted into as their signature styles. Gaurav Gupta and drapes were inseparable but this time he made the models strut down the runway in constructed dresses with accentuated shoulders and lots of metallic zippers giving them a military feel. Gaurav did his draped gowns too but somehow they were more tamed. I loved the way he mixed sheer nets with satin to give that sensual hint of a peek of bare shoulder, bare midriff or bare back. Sharply tailored and fluidly draped ensembles together created a fabulous collection.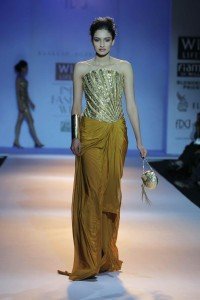 Military and Dominatrix look is the trend going strong. Raakesh Agarwal too impressed with his sharply tailored dresses and separates. My favourite was the sequence in leather. He painstakingly sewed innumerous panels to create a Chevron texture or put  together semicircular panels to create that body-hugging fit on trenches, dresses and skinny pants. The sequence of draped floor-duster wraps paired with brass breast plates were dramatic. Overall Raakesh Agarwal moved us with his gold splattered gorgeous collection.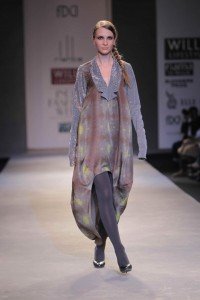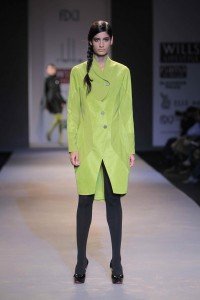 Rishta by Arjun Saluja was interesting. The way he used pair of metallic zippers running parallel across dresses was indeed innovative. Loved the prints and the way he played around with the lapels on a cocoon shaped dress. Saluja's 'structure versus drape' philosophy couldn't have been executed better.