Pretty girl Noor Ansal recently celebrated her birthday at a non-descript joint in GK. Daughter of Navin Ansal and Raseel Gujral, Noor's birthday bash surely arose expectations of a classy bash with classy folks that we have seen at Navin and Raseel's  bashes. But alas Noor's birthday party was a disaster.
Noor Ansal's birthday was at this unheard of pub called RaRa Avis in Greater Kailash.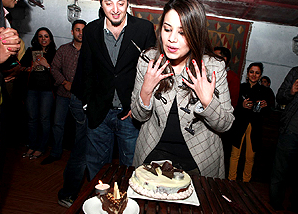 Anyway the bash had few known faces like that of Amaan Ali Khan, Noor's very-very good friend – Keshav Punj, the omnipresent model – Hasleen Kaur, Vikram Sharma and Keshav Suri. The birthday went dry before midnight when the bar stopped serving booze. The owners – Lakra, Sharma and Chaudhary blamed it on some Excise problem. The kebabs that were the only finger-food that made the rounds were illusive too. Thank God Vikaram brought a cake along and the birthday girl managed to do the customary cake-cutting ceremony.
Noor next time if you host a bash please host a classy one Noor!