Members of the FEMEN group, who have gained international notoriety with their topless protests, scaled the balcony of the Indian Cultural Centre in Kyiv and also turned their anger on the residence of the Indian ambassador in the capital, striking the door with the pole that hoisted Indian flag. The Ukrainian Prosecutor-General's Office on February 16 opened a criminal case upon desecration of the flag of India by activists.
Feminist activists were protesting against a report that Indian authorities are to scrutinise Ukrainian visa applications as part of a crackdown on immigrant prostitution. Indian consular officials have been told to screen visa applications from women aged between 15 and 40 from several eastern European countries. FEMEN activist Oleskandra Shevchenko said: "Ukrainian women are not prostitutes…we've been fighting this image. Shame on India for trying to insult us this way."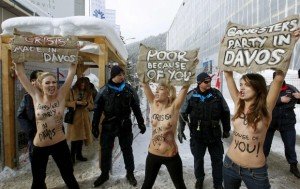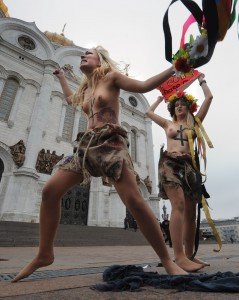 Infamous for topless protests an administrative protocol was drawn up against the notorious FEMEN leader for violation of the order of organisation and conducting assemblies, rallies, street processions and demonstrations by Ukrainian Government. Indeed these women have gone too far by desecrating the Indian Flag and I think Indian Government should ensure that FEMEN is prosecuted for their slur. Go Topless, go Nude but don't you dare disrespect our Tri-Colour you FEMEN bitches. I think this group flash their boobs for their 15-minutes of fame rather than for the cause.