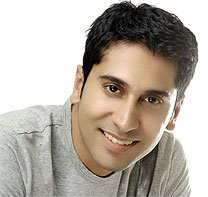 Wills Lifestyle India Fashion Week (WIFW) Fall-Winter 2012 kicked off yesterday and in many of the day's shows I had that same question disturbing me – 'Is this a fall-winter collection?' Year after year I had raised this question and been shut-up by the staple answer – 'Besides Delhi there's no Winter in India.' 
Anyway I liked Vineet Bahl's collection on Day 1. Contemporary Shapes and Silhouettes, Clean Construction, Crafty Detailing and Impeccable Finish – the four pillar's of Vineet's collection made it stand apart. The crocheted lacework, the blotch dot print, the trickle-print on simple shifts & tunics, the fine detailing on the yoke and sleeves of dresses and the intricate threadwork were applaudable.
Also loved the modernised application of Kantha work that Vineet Bahl used in the latter part of his collection. And yes the collection was definitely befitting the season – Autumn-Winter 2012. Kudos Vineet!