Iqbal Meer Sharma is not quiet the saint we thought he is. This however doesn't justify him getting punched by Saif Ali Khan Pataudi at the Wasabi in Mumbai. Nor is he ignorant of Bollywood stars as he claimed he is. I discovered this from his homeland – South Africa from a NRI friend.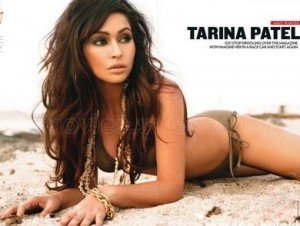 My NRI friend who has been living in Durban for almost two decades now had this to say about Iqbal Meer Sharma and his Bollywood starlet wife, Tarina Patel, "Despite remotely related to Fatima Meer, Iqbal whose father is from Delhi still hangs on to the middle name "Meer" for whatever reasons. He has been BEATEN UP in Durban too while working for a civic organisation, which he ultimately left. Iqbal flaunts around a fake CV to impress upon people.  He is a desperate attention-seeker and his wife Tarina is even more media hungry and projects herself as a 'Top Bollywood Star' to naive South African media. Tarina also has a notorious reputation and goes to any extent to have her way through." 
My buddy also forwarded me a facebook link of a TV Show in South Africa – Idols South Africa – formatted on the TV Show – American Idol. This is what the show advertised: Opening tonight's Top 4 Results Show is Bollywood sensation, Tarina Patel. Tune in right now to watch all of the glitz and glamour of her performance. Here is the link:
https://www.facebook.com/IdolsSA/posts/136322736467077
Here are some comments on Tarina Patel's claim of being a 'Bollywood Sensation' and her disastrous performance:
Madhuri Kooverjee Chavda Lata…. You're so right! How embarrassing for us :(( She apparently proclaims herself as a Bollywood Star!!
Elize Venter Abrahams I'm not an expert on Bollywood, but Tarina sucked big time. Where did she learn to dance. If she is one of India's best, I dread to see the worst!!!
Elario Griego That Bollywood bore was on the wrong show, this is IDOLS, not SO YOU THINK YOU CAN DANCE !!! 
And as for Danny K! Uhm, there are contestatants who did not make the TOP15 who would have done a better job! You should have rehearsed with your back-up singer. You two were not complementing each other vocally at all.
So disgusted that Idols S.A thinks this little of their viewers …
Bonita Maboeta I love Danny K, but his performance I don't know. But that bollywood chick we have much better local performers…are you mad to put her on?
Nafisa Khan Dat performance by Tarina was a disgrace to Bollywood and Indians in general! She did nothin to impress and all u noticed were her breasts, which I thought were gona pop out at any tym! Please idols I'm sure u could find someone wid class to put on stage!