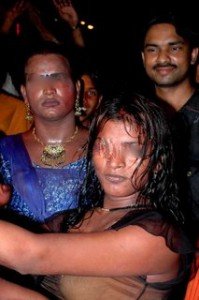 I am sure you must have spotted eunuchs soliciting on the streets of Delhi. Earlier they were spotted at Dhaula Kuan, in the dark kerbs near the AIIMS flyover or at the Moolchand crossing. These garishly dressed eunuchs (better known here as Hijras) usually catered to desperate auto-rickshaw drivers, truckers and wayward perverts. But recently I saw them at the Lodhi Road, bang opposite the luxury hotel – Aman. Just few days back to my utter surprise I saw a guy in a BMW stopping and negotiating with a eunuch out soliciting. No the guy in the Beamer wasn't a driver but the owner as I managed to have a good look while passing by. Now I understand why eunuchs are lurking in the streets of posh Delhi.
Why would a well-off despo pick-up a street side eunuch hooker? These hijras are not the glamourous 'ladyboy' kinds you get to see in Bangkok and Pattaya. They were simply dirty.
But then there are no dearth of kinky, horny bastards out there. Sex with a transvestite hooker??? What's happening folks?
Anyways, I found this interesting picture of Yash Birla in a green frenchie with a bunch of toy-boys at 'Bollywood Basket' who in turn picked it up from 'Shirtlessindianmen'. Hope you know of the other Birla's preference too. If not – read it here: http://wp.me/p1C8a1-LY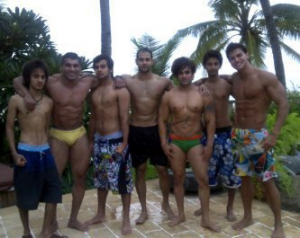 Besides the picture there were some really scandalous comments on the post at 'Bollywood Basket' :
"WTF! The guy on the extreme right is Sahil Khan, the one who was with Sharman Joshi in Style, & few such films. 

Heyy! Heyyy! Heyyyy! Speaking of Sharman in a Yash Birla post! What a coincidence! 
Achcha, now I get it, Yash – Sahil – Sharman!

Fuck! I love my brains! 

BTW, regarding this pic 4 men with 3 teenage looking boys! This seems to me some kind of orgy!
Puke!!!
Wonder who are the bottoms here??????
Yeah now that it's pretty common knowledge abt our happy and gay stars, the top / bottom quandary must be explored. SRK – Top. KJo – Born bottom. John A – Top. Arjun R – Top. Tooty Frooty – Bottom. Yash – Top. Sharman – Bottom. Tushar – Bottom. But then Manish M looks like a Bottom too !
Kjo – Born Bottom 🙂 ROFL So true. Bt ..Do you think Tooty Frooty is bottom…perhaps. Even with Ash, I would suspect that he is bottom.

btw..Arjun R would be too stoned to worry about top, bottom, left or right. All he needs is some sausage and he is fine anyway he gets it."