The multinational cosmetic companies are hell-bent in exploiting India's obsession for fair complexion. It all started with creams for lightening the complexion of the face and then gradually started spreading to hard-sell creams to lighten your elbows, knees and recent products claimed lightening the complexion of the entire body. These are not some local brands that are exploiting India's obsession for fair complexion. Be it Olay, Nivea, L'Oreal, Garnier, Lever, Lakme – every top-notch brand is selling the illusion. First it was targeted to women and now even men weren't spared. Shahrukh Khan, John Abraham and Shahid Kapoor are endorsing the dream of getting fair complexion and becoming handsome.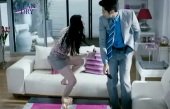 Most recently Anushka Sharma started peddling Nivea's Underarm Whitening Deodorant and now the Television is flooded by a commercial pushing a cream that will get your vagina, your labia, your clitoris as fair as your face. Gawd…this is the heights. Clean & Dry Intimate Wash by Midas Care promises to make the vagina fair and fresh. See this commercial: http://youtu.be/9Tx9vVVMWw0
And that day isn't far when a cream will pop-up claiming to make your penis fair. I am happy with my dusky organ, which is grades darker than my face but then I like it that way!