I wonder why Cheap Deodorant Brands and Cheap Mobile Phones resort to utterly senseless, sexist and distasteful advertisement to peddle their products. There are dozens of Deodorant Commercials on Television that show that women and angels drop from the sky  and lust for you if you spray on the said deodorant. Damn it! Is it deodorant they are selling or a can of phermones???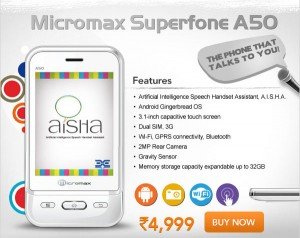 Micromax – a cheap mobile phone brand that follows Apple's footsteps and come out with poor copies is peddling their new model – A50 Ninja–which comes with an Artificial Intelligence Speech Handset Assistant, "AISHA". The TV Spot shows 'AISHA' as a real woman who is nothing but your sex slave who under your command is willing to try out new sexual positions, has no problems if you are laying other women and is fine being your sex slave and even willing to take the trouble of finding you a 'homely' girl to marry. Here is the Commercial for you to have a look: http://youtu.be/lHQMJ-1KV00
 Many would argue that I am being extra- sensitive. But the tag line  – 'Wish every Woman is like Aisha' is definitely sexist that projects women as objects of lust and us men as sex maniacs. The brand is targetted at the semi-rural and rural markets and this Ad definitely wouldn't sink in with the target customer. Yeah it would surely titillate them and probably that would win them. A typical Micromax customer is the one who believes in the 'Missionary Position' and doesn't really know much about 35 New Positions that AISHA knows of.