Three Wardrobe Malfunctions within a week? Well that must be making you wonder if Reality TV Star – Kim Kardashian had been doing them deliberately. Nah! The malfunctions are rather pathetic ones for one to indulge in deliberately for some press.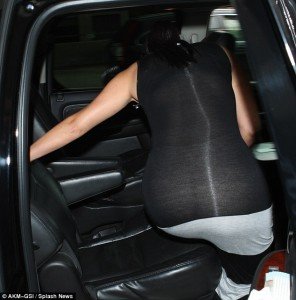 First, Kim Kardashian's Spanx, or what looks like some sort of control top underwear, came out to say hi when the reality star bent over her car in a sheer dress at LAX on last Saturday. Even Kim with her bootilicious body needs Spanx to keep the rolls of flab under control??? No doubt Spanx are the hottest selling stuff in India too.
Then on the very next day – Sunday, Kim hawked the new Kardashian Khaos store in a sexy black dress in Las Vegas, but the white tag from her dress' lower half was blindingly visible under the camera flashes. Doesn't she know that those tags are meant to be cut-off???
Kim Kardashian's third wardrobe malfunction happened before her appearance on "Jimmy Kimmel Live!" in Los Angeles with her sisters. After greeting fans, the zipper on Kim's dress completely broke, revealing her entire upper back and causing the dress to have to be quickly sewn back together. The reality star took to Twitter to reveal her own fashion fail: About to do Jimmy Kimmel & my whole dress rips! Help!!! Time to sew me in…praying this works!