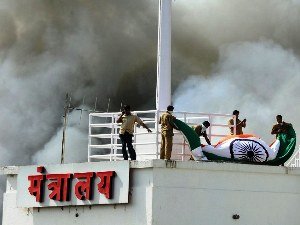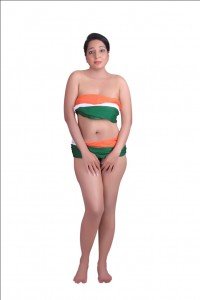 I was overwhelmed by patriotic fervour when I was seeing those brave men of PWD who dared the blazing inferno at The Mantralay to lower and bring down our National Flag – The Tricolor safely from the mast. These men risked their lives for the prestige and honour the Tri-Colour deserves. I salute them!
The very next moment a friend of mine sent me a mail that had an obscene looking South Indian starlet in even more obscene shoot that had the Tri-Colour covering her vitals. Now that is insanely offending. This starlet – Shamita Sharma should have had done some research before doing that vulgar photo-shoot about the Flag Code of our nation. The code definitely doesn't allow the Tri-Colour to be draped as a bikini.
So what was this b*#ch doing posing in the buff??? Well this was Shamita Sharma's way to protest against Moral Policing unleashed by ACP Dhoble in Mumbai. I am not a fan of Dhoble and his ways but I sincerely wish that Dhoble picks up this desperate attention seeking starlet and lock her up.
This is what the Shamita Sharma's publicists emailed:
"South film actress Shamita Sharma went commando for a protest campaign organized by a social organization Citizens Action Forum to protest against moral policing in Mumbai.  This protest is part of a short film produced by Vrindaavan Films to highlight the need for more flexible laws and the urgency of new legislation to replace laws which are outdated and archaic. 
What the Foble? is a satirical comedy film that lampoons the Moral Policing Stance of the Mumbai Police in an international city like Mumbai which lives and works 24X7 and round the clock. It is an oblique reference to the hockey stick wielding ACP Dhoble, The film stars Tamil actress Shamita Sharma in the double role of ACP Foble and a party going item girl a la Rakhi Sawant who has also been a victim of Moral Policing in the early stages of her career. 
The film is produced by Vrindaavan Films and goes on floor next week.  It is a short (80 min) film which will be released around Independence Day."