Charlize Theron and Michael Fassbender are featured in the August 2012 issue of W Magazine. I have not seen such an erotic S&M fashion shoot earlier in a rag-mag. Photographer Mario Sorrenti photographed Charlize Theron and Michael Fassbender in an editorial called Smash of the Titans.
Shot in striking, dark colors in the summer issue, Theron and Fassbender are seriously hot. Photos by Mario Sorrenti are sizzling sexy. Is this the start of a trend of fashion-shoots in fashion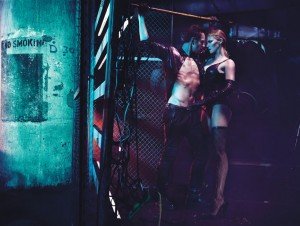 glossies? If
yes could Indian Fashion Magazines keep up with this trend? Well only time will tell and meanwhile you enjoy the sexed-up shoot!