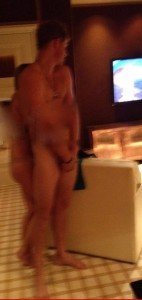 Better late than never! Loads of fashionscandal readers wanted to see the naked Prince Harry here so am posting it now. 
Prince Harry put the crown jewels on display in Vegas last weekend, getting BARE ASS NAKED during a game of strip billiards with a room full of friends in his VIP suite. Well I knew of strip poker but strip billiards is something new to me. It all went down Friday night (17th August) during a raging party in a high rollers hotel suite.
Harry and his large entourage went to the hotel bar where they picked up some hot babes and invited them to a party at his VIP Suite. The bash at Prince Harry's suite was nothing short of a wild orgy. The game of Strip Pool virtually turned into a nude party with the Prince too abiding with the rules of the game.
In one photo, a fully nude Harry cups his genitals while a seemingly topless woman stands behind him. In another photo, a naked Harry is bear-hugging a woman who appears to be completely naked as well.