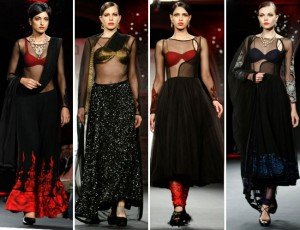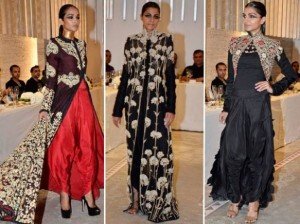 Every year post the annual Delhi Couture Week, I draw out the top couturiers amongst those who showcased. This year too after much deliberations and revisiting the high-resolution images of the creations showcased by the couturiers at the just concluded PCJ Delhi Couture Week 2012, I have drawn out 'My' Top 3 Couturiers. The list is in 'alphabetical order'.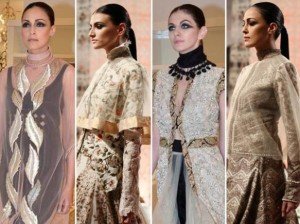 Anamika Khanna's collection was an absolute treat to the eyes. Her ensembles were not typical Indian Wedding Wear (Wedding Wear dominates our Couture Week) but a nice blend of traditional and modern styles. I loved  the intricate texturisation, innovative silhouettes, great assortment of fabrics, amazing colour story and of course perfect tailoring. Scalloped lacy jackets over lehengas and dhotis, the high-collars, the sari-gowns or the magnificent floor-duster coats – all gave a modern touch to traditional Indian ensembles. Sheer Salmon pink dupattas or layerings over ivory coloured ensembles livened up the look dramatically.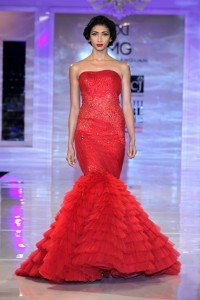 Manav Gangwani impressed me with his gowns – be it the monochromatic ones or the more dramatic red ones. I loved the OTT detailing, which I look forward in a Couture show, liked the shapes and above all the fit that is so integral to a couture piece. A couture ensemble has to fit on the model immaculately! The sheer fishnet gown with embroidery concealing the vitals did shock some of my fellow scribes but in a couture show that is more than permissible. The Indian styles were 'Blingy' but then that is something Gangwani's clients love.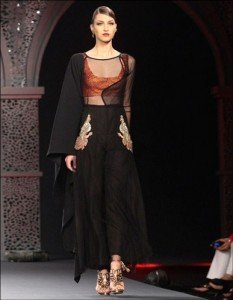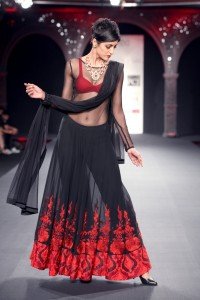 Varun Bahl was the first to establish that the 'colour' of the season's gonna be Indigo. The sheer net bodices were absolutely sensual and the placement of embroidery was imaginatively innovative. One look at Varun's collection and you would understand how vital 'placement' of embroidery is.  Gradient shading – lighter shades blending in to darker ones – was beautifully used on saris and the contrast coloured embroidery on them beautified them further. I heard the saris are already taken. The use of the colour black gave an uber-chic look to Bahl's beautiful collection. Classy is the word to aptly define it!