The moment I saw this picture of actor cum activist Shabana Azmi giving a standing ovation to Olympic Medal winning gritty boxer Mary Kom as she sashayed down the ramp, the words GULABI GANG sprung up in my mind. Two powerful ladies in PINK (GULABI) fits the bill to the 'T'. Waaaddyaa say???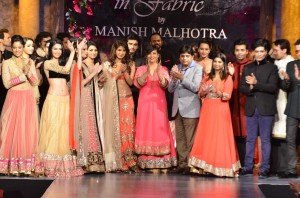 The image is from Shabana Azmi's NGO, Mijwan Welfare Society, hosted a fashion show, Mijwan Sonnets in Fabric 2012. The show highlighted craftsmanship of Mijwan's female population through Manish Malhotra's designs.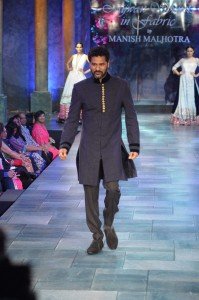 And yes it seemed like all of Bollywood was on the ramp, especially the two directors from the now-famous Rs. 100 Crores Club – Rohit Shetty and Prabhudeva. Oh yes…how can I forget B-Town's darling Karan Johar. He too walked the ramp in a red thingy, which looked like a 'Bandmaster's' uniform. How could you don that K Jo???