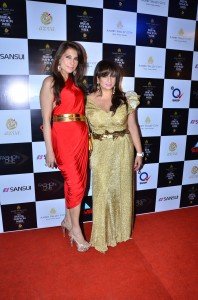 Hush-hush murmurs grew into a catty cacophony when it was established that it is indeed Tanisha Mohan aka Tashu who is the uncrowned Brand Ambassadress for the coveted couture house – Anjalee and Arjun Kapoor. The fashionistas were clawing and pawing for this coveted status while Tashu silently flew down to Mumbai to be at Anjalee and Arjun Kapoor's show at the ongoing India Bridal Week as their Brand Ambassadress.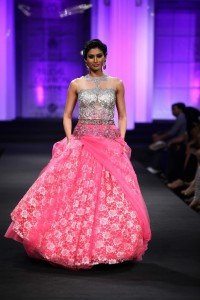 Some may argue that Bipasha is the Ambassadress for Anjalee & Arjun Kapoor but I choose to disagree. She is only the rented diva! Bips loyalty lies with Gauri and Nainika and her buddy – Rocky S.
Coming back to Anjalee and Arjun Kapoor's dazzling show – well it was inspired by Subz Milonee (Mixed Vegetable) and was exquisitely crafted after selectively drawing inspirations from Manish Malhotra, JJ Valaya and Manav Gangwani.
Bipasha was the Tadka on Subz Milonee dished out by Anjalee and Arjun Kapoor!
Pardon me Anjalee…change your stylist. Didn't do justice with your golden gown. Could had been bit more roomy at the bust.