Last week I was out of Delhi and hence missed out on the crazy Buddha Bar fever. Since the chateratti was going ga-ga over Buddha…oops 'b-bar'…the brand new addition to the Capital's night out, I made it a point to check it out.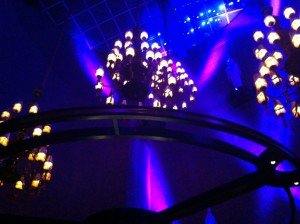 I thought Thursday would be an easy night but then I was wrong and b-bar was buzzing. I must say that this place has a totally international feel to it. We may have had an international bar/lounge/club in Delhi before like the F bar or Indochine but they didn't create that 'international' feel. What I like about b-bar was the smooth operation right from the point of the valet from where you take the elevators to the restaurant lobby. The mammoth space done in classic, rich style envelopes you the moment you walk in and by the time you settle around the island bar, the tall central dome gives a healthy feeling of space. I have had enough of jostling amidst crowd to grab a drink. At b-bar nothing seemed ostentatious or over-the-top but there is subtle feel of luxury and class.
Music was nice – signature Buddha Bar stuff, the sound system was great as I didn't need to shout my throat hoarse to make a conversation and food was great. There is a dining area and then there is a lounging area. If you want privacy you can go for the PDRs.
Thank God there is no 'cover charge' but yes you need to make a prior reservation to enjoy the 'b-bar' experience. And yes, I was happy to see the mature crowd than the usual teeny boppers and the must say the style quotient was high. I think it will if not already, become the place to be spotted at!