At  the Paris Fashion Week Spring-Summer 2013 we saw designers churning out some real quirky accessories.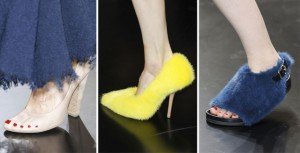 From the cool girl coats to the wait list-worthy bags, Phoebe Philo makes the clothes we crave every season. But the mink shoes at Celine were shocking. Well, isn't that odd?  Mink in spring!
And now we have Chanel Hula Bags!