More and more business tycoons are going for 'Trophy Girlfriends' and splurging insane amounts on them. It is sort of becoming a trend with Desi Tycoons!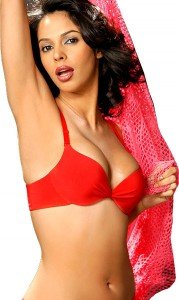 The most infamous tycoon and his trophy gal involves none other than  Mallika Sherawat. She lives in Los Angeles for the better part of the year. Mallika Sherawat has a penthouse apartment at one of the swankiest locations in Beverly Hills The Palazzo. Mallika's two-story penthouse has a city view,  arched windows, city views, controlled elevator access (only she can use it to get to her penthouse), large private terraces and a personal swimming pool (5500 sq feet in area) with two levels a drawing, dining and kitchen below with two bedrooms above. And Roman soaking tubs. It even has an original Picasso painting. Now does Mallika earn enough to sustain such a lifestyle? The answer is a 'NO'. The penthouse rent is paid by a NRI Tycoon based out of London and he is the richest NRI. Not only a penthouse, Mallika's tycoon lover pays for her publicist, stylist and shopping and also allows the Haryanvi Sex Bomb the luxury of his private jet. In return Mallika has to make herself available to her billionaire lover at his beck and call, which fortunately is not very often as the tycoon needs to be very discreet.
The other business tycoon who has been smitten by the beauty of Hyderabadi lawyer cum model cum beauty queen – Vasuka Sunkavalli is from the Capital City. He had a live-in relationship for a long time with one of Delhi's old socialite, which unceremoniously ended last year. Then this tycoon – who is in Infrastructure business had a short stint with an Afghani beauty but that too ended soon when the tycoon met Vasuki during Indian Grand Prix last year. If you still haven't placed the man – well all I can say is that he is more known by his nick name, which is rather 'Mousey'!
Yet another billionaire NRI is based out of London too. This man has a penchant for trophy gals half his age. In fact all the three tycoons have trophy gals who are half their ages! The London based NRI who is in mining and more is seeing Kanika Chandok and their alleged relation has costed Ms. Kanika her marriage. I had posted about her earlier. You can read it here: http://wp.me/p1C8a1-134