Not many would know that former tennis star, Vijay Amritraj is married to a former Miss Sri Lanka – Shyamala. Last weekend Arjun Aloysius (whose Aunt is Shyamala Amritraj) tied the knot with  Anjalie Mahendran, daughter of Arjuna Mahendran, Investment strategist at Credit Suisse and socialite mother Nadine Mahendran in Colombo. The groom – Arjun carries the infamous tag of being a 'Colombo Playboy' and is an investor. The Amritrajs were all there – Vijay, Shyamala, Prakash and Vickram.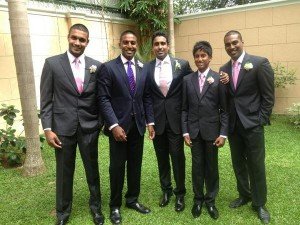 It seems the days of South Indian demureness are gone and that Sri Lanka is playing hard to catch up with the extravagance of big boys of India. The wedding was partly tacky, partly elegant with the food being the best part of it all. The decor was…well nothing great though flowers worth 3 Million Sri Lankan Rupees were imported. The Sri Lankan groom looked utterly confused in a flashy Rohit Bal sherwani. The Bride wore a $10,000 Vera Wang dress for the Christian wedding to honour the groom's heritage.  Aunties were rife with whispers on how the wedding was a bit confused, planned by Delhi's very own Vandana Mohan.  The Groom – Arjun and his friends donned typical 'Punjabi ishtyle' outfits while the bride – Anjalie wore a traditional South Indian sari. It was a strange sight!  The worst was the religious wedding ceremony in the morning. Instead of chants and hymns Katy Perry and Adele songs blared and champagne was served instead of Prasadam.
The big-fat Sri Lankan wedding had its fair share of tamashaas too.  The whole wedding was eclipsed by talks on how the bride's mother, Nadine Mahendran's twin sister was not invited and the groom – Arjun getting into a fight in the wee hours after one of the wedding functions and in the process fractured his own arm. Vijay Amritraj was seen making the rounds and speaking about his new CNN-IBN show where he focuses only on A-list international celebrities.